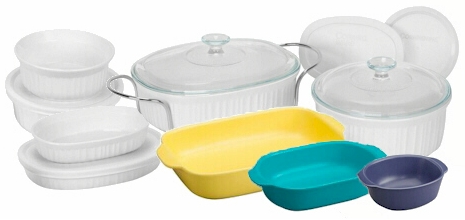 CorningWare
For more than half a century, CorningWare bakeware has married exceptional performance and versatile design with an eye toward the modern. In fact, the original glass-ceramic material, Pyroceram, was a marvel of engineering, designed in the 1950s during the space race to safely absorb huge temperature fluctuations in rocket nose cones.
Once introduced for home use in 1958 to busy yet innovative cooks, it was able to go directly from freezer to oven to table, where its modern designs added a touch of everyday elegance. Given the versatility to pull triple-duty in the kitchen, CorningWare brand engineers designed each piece with tight-fitting lids for storage, the requisite shapes, sizes and durability to serve as bakeware, and fashionable designs that were at home on any table, in any kitchen. Staying focused on what consumers wanted for their kitchens, CorningWare brand changed its formula to a stoneware material.
As microwaves have become more popular in homes around the world, CorningWare has consistently produced utensils that are safe for the microwave, as well as providing the versatility of being able to be used in your conventional oven and store food in your refrigerator and freezer. CorningWare is beautiful enough to do double-duty as serving pieces, cutting down on clean-up.
Since its introduction, CorningWare has been a trusted name in kitchens everywhere for its versatility and appealing design. Today, CorningWare's glass-ceramic cookware can be used anywhere in the kitchen, from the refrigerator or oven to the table and back again. New designs and specialty pieces are now available. But some things haven't changed: These new pieces still have the same CorningWare quality and convenience your mother cherished:
Safe in microwave, convection and conventional ovens
Safe for freezer and refrigerator use
Plastic or glass lids that are microwave-safe and dishwasher-safe
Non-porous so it won't absorb food odors and resists staining
Easy to clean by hand or in the dishwasher
Simple, traditional designs to match any decor that are easy to style around, from classic to contemporary, country to urban
Add impressive dimensions to your cooking and serving with CorningWare. Whether you cook because you love to or cook because you have to, you are too busy to waste the time you spend in the kitchen. CorningWare brand products help you prepare and serve meals with minimum steps and help you feel good about what you serve.
The Current CorningWare Collections